Midnight Shift Teamwork!
Hamilton County 9-1-1 Emergency Communications District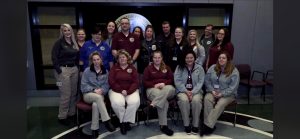 Early on the morning of 2/22/23, a call came in that none of us ever want to receive as a 9-1-1 family. An elderly male with dementia had been discovered missing from his home around 0330, and it was established very quickly it was the father of one of our midnight shift dispatchers currently on duty. Of course, this is considered a priority call in any circumstance, however when it involves one of our own emotions automatically run high and the level of focus, teamwork, and determination is only exemplified.
Every team member on shift this night helped in the call in some way, shape, or form, and provided exponential responses in either getting units to the scene, mutual aid started, phone calls made to local stores checking to see if they had seen this party, putting BOLO's out to other channels to ensure the biggest response area could be checked, or simply pulling up other channels to allow the family member involved to speak with officers and have the time he needed to process the call.
It is always something to watch from a Supervisor standpoint, when people pull together on a priority call, especially something involving one of our own. These are the times you can pin-point beyond a shadow of a doubt that the work you do is important — and it makes a difference in people's lives. I wanted to nominate my midnight shift crew and thank them for proving this once again, and working at the highest level that is expected and deserved of a call like this. We are extremely proud of the work our team does here, and witnessing the dedication put forth by everyone when it comes down to the wire!