Otero County SO Dispatch Originals
Otero County SO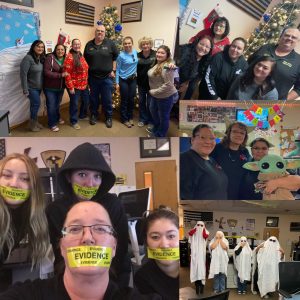 Happy Telecommunicators Week to an amazing group and to all Telecommunicators!
Otero County Sheriff's Office Telecommunications First Responder team of 13 serve their community  in Alamogordo, New Mexico (In the middle of the desert in NM). They continue to sacrifice their time at home to cover… working overtime… a lot! They come together during tough times.  They are the original team of OCSO dispatch before we consolidate in a few months.
From our boss: I realize there are no words to adequately describe this crazy group. Yet words are all I have. So what do I say? Thank you?
You are amazing? Your appreciated?
Your hard work and dedication is seen? You are all of those things and more. So, I will simply say… from the bottom of my heart… thank you.
Always remember, you make a difference. And of course….
"ROCK ON" Otero County Dispatch Warriors!!!
-Deb