Port City Protectors- Oswego County 911
Oswego County 911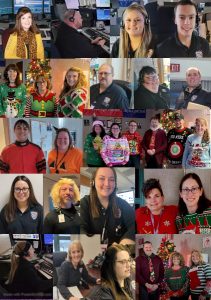 Our center in Oswego County, New York is made up of 4 dedicated teams of public service telecommunicators and dispatchers. They serve a community of nearly 117,500 people and cover 1,312 square miles. We have been understaffed by the equivalent of one team, but everyone has done amazing pulling together to make up for it and help each other out when it's needed!
We hired 3 new recruits last fall who are excelling, and after a campaign to fill more positions, we were able to hit a department record of applicants! We have 4 more recruits currently in training and will be hiring a few more this summer!
There are times we see each other more than our own families, spending that much time together has made us our own kind of family. We get on each other's nerves, make each other laugh until we cry, help each other through rough times and illnesses, and celebrate all the good times. We've come a long way and have the future to look forward to!
We'd like to thank our community and all of the agencies we work with for your support!