The Calm Voices
Nelson County E-911 Dispatch Center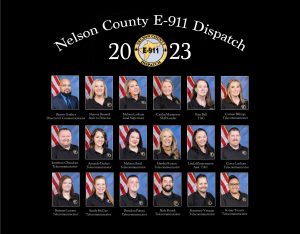 I have been the director for Nelson County E-911 Dispatch for just over two years.  When I first was given the opportunity to be their Director, I knew going in to a new environment would have its challenges.  Day 1 we got the ball rolling and started writing policy and procedures, standard operating guidelines and a staff meeting to introduce myself.  Many of the staff were very receptive of what would be expected and how performance would lead me in my decision making.  Out of the sixteen staff members, only one decided they would have to move on and ended their employment.
In the first sixty days, more than twenty-five new policies were written.  Each staff was given complete copies on the policy and procedures to read and review.  After some changes, all staff signed off on the new policies.  Day 120, we started a complete remodel of the dispatch center.  Once staff were allowed back in the main center, they would see a completely new center for them to perform their duties.  Staff were in awe of all the brand new equipment, furniture and freshly painted walls and new carpet.
Over the first complete year in my position, the changes I saw in the attitudes, quality of work and overall performance increased tremendously.  Staff were more engaged and seemly enjoyed coming in to their new center.  Some challenges of the past leadership administrations, didn't focus on the needs and willingness of the staff to work on their professional development.  I saw this a need and began working on getting this done for the staff.
From year one to year two, we have now gotten eight staff members a part of APCO and NENA.  Of the four year 1 members, two have received their CMCP's, another employee is attending his CMCP in July, one received their ENP, all four went to national conferences,  joined committees and have brought back many skills to the center.  I have often told my staff titles mean nothing, performance proves more.  We are now starting year three and I look forward to see where we go from here.
Th performance of the employees on Nelson County Dispatch shows every day by the success in their accomplishments over the past two years.  Their performance has earned them the ability to get out to conferences, get certifications and enhance their professional development.  All these resources have been used to make our center better.
Selecting one individual as a hero is difficult, when they are all heroes.  As a group, I nominate Nelson County E-911 Dispatch Center for the opportunity to be recognized for National Telecommunications Week.
Thank you
Shawn Gaither