Bowl of Noodles
York County 911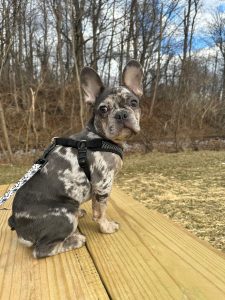 My side kick is my puppy, Tortellini. We recently acquired him on November of 2022 and have been training him to be an Emotional Support Animal.
Although I am currently on the admin side of the communications center, having a dog around has significantly improved my mental and physical health as your become motivated to do things with them that you weren't doing before. On nice weather days, I will take him around the trails for long walks. We will stop to chat with other people we meet as we are walking him. Additionally, on some of the longer, more challenging days, he is always happy to sleep in or lounge around.
He will be completing his puppy classes at the end of February and will be moving to his next level obedience classes in March. I am hopeful that he will be able to visit the center one day and bring some of my coworkers the same joy that he brings me each day.