City of Bullhead City 911 Communications Bureau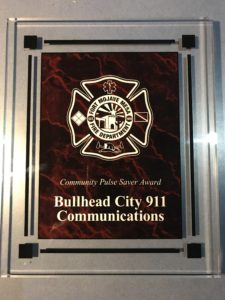 The Bullhead City 911 Communications Bureau dispatchers, in conjunction with the Fort Mojave-Mesa Fire Department, as part of the CPR Life Links program initiated a CPR protocol at the end of 2018 that is structured to get bystander CPR started faster.
The goal is to have the call taker recognize the need for immediate CPR, quickly and efficiently initiate by stander CPR chest compressions in 2 minutes or less.  Throughout 2019 the Bullhead City dispatchers have been meeting this goal the majority of the time.  The Fort Mojave-Mesa Fire Department presented the 911 dispatchers with a CPR Life Links achievement award as recognition of the teams achievements (see photo).
In 2019 in addition to adjusting to the new CPR protocols the dispatchers were learning a new EMD program, new procedures for dispatching, and working understaffed by 25 %.  The understaffing was a result of a more than usual loss of employees due to retirements and life changes resignations.  To make up for the shortages the dispatchers were working all 54 to 80 hours per week for at least 8 months of the year.  This was in addition to training new employees.
Throughout the mandated overtime, long hours, working understaffed thru high stress events, and very little time off the Bullhead City 911 dispatchers all kept a positive attitude.  They were all willing to work extra hours, stepped up to help encourage and train new employees, and implemented the new procedures with no hesitation.
Their positive attitudes and ability to adapt quickly and efficiently to change is exemplary and appreciated.  Being able to give them a free lunch would be outstanding and a great reward for this fantastic team of dispatchers!