Kim Wingate
Dickson Emergency Communications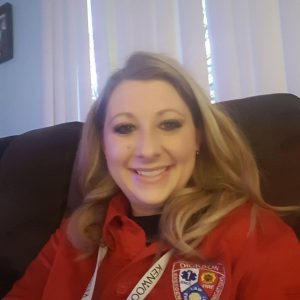 I want to start out say Kim is an inspiration to everyone. If there is a problem she is one you can turn to for help and is always willing to help. Kim has been with the Department going on 11 yrs. I have worked under her for 5 of my six years at the center.
In March of 2020 I had to have open heart surgery. She took time out of her day everyday to call or text to see how I was doing. I returned back to work towards the end of April. On June 29, 2020, I took a 911 call that would change my life forever. The call was my stepmother stating my dad had collapsed and had stopped breathing. As she begged me for help and guidance I tried to start CPR. I turned and looked at Kim and said it's my dad. Kim then proceeded to take over the call and help them with CPR and doing what she was trained to do to save a life. As they rushed me out of the center she was doing everything in her powers to save him. What she didn't know was the lord was battling for him as well to take him home. Kim put up a fight till the medics arrived to do what they do. I lost my father that day. Once again she called everyday to check on me and my family and was there when I needed her.
That day I learned what a HERO is. Even though I lost my father that day I still look at her for being strong and stepping up and doing what we do in our profession. She not only done this on this call but she does it daily. Kim works hard and takes care of the people on her shift and treats them as if they are family not just co-workers. She is always the first to step up and volunteer to help out.
Kim you are my HERO. Thank you for being my friend, family, and awesome co-worker.