Resilient Super Heroes
Umatilla County Sheriffs Office Dispatch Center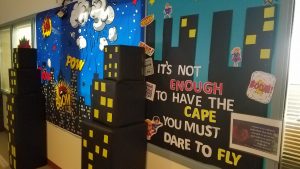 Our center was like many others from the past year; adjusting to masks, extra cleaning, social distancing, and numerous changes in personnel.  What sets Umatilla County Sheriff's Office Dispatch apart is how resilient our staff was during this time.
Our center went from being somewhat understaffed to being critically understaffed, overnight.  Due to this staffing crisis, the team has been working mandatory overtime, nearly 3 out of the 4 weeks of the month, since September. This meant our staff was with their work family more than their own families.
Add to this, the hiring of 6 new staff who were in various stages of training and increased call loads.  The new trainees quickly became valuable members of the team.  There were a number of them "released" for a specific channel, just due to the sheer needs of the center.
Despite the tremendous stress levels, added work and uncertainty surrounding COVID, the superheroes of Umatilla County NEVER wavered one step.
Each one reported to work on their shifts, ready to go, willing to help the trainees when the trainer was busy, ensuring the safety and well being of the communities, the safety responders and their fellow dispatchers.
The calls for service not only rose, so did the nature and the severity.  Numerous suicides, elevated domestic disputes, Search and Rescue incidents and increased citizen contacts by safety responder personnel, were all dealt with with professional assistance.
Throughout it all, the extremely talented and dedicated dispatchers of Umatilla County Sheriff's office took it all in stride, continuing to move forward but never compromising safety or protocols.
The dispatchers faced many personal and professional sacrifices almost on a daily basis.  At times, it seemed like there was no light at the end of the tunnel.  However when one of them felt it too overwhelming, another telecommunicator realized it and picked that person up, giving them a much-needed breather, as well as taking on that "one more item".
Each one did so in a manner of professionalism, with respect, and showed the utmost ethical behavior when conducting business.   The staff never wavered in their continued support of the dispatch center and each other.
The men and women of Umatilla County deserve a huge Thank You!  I am extremely proud of each and every one of them.
The Telecommunicators of the Umatilla County Sheriff's Office are the epitome of what "True Superheroes" are.
Thank you.
Cpt. Karen Primmer