Stories From Behind the Thin Gold Line With Hal and Carols
Johnson County Emergency Communications Center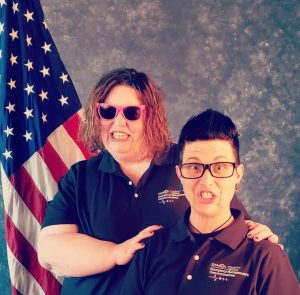 One might compare this duo to the great duos of America's past: Peanut Butter & Jelly, Macaroni and Cheese, or a fine aged wine and a lovely Brie. Mel Dawdy (Hal) and I (Carols) have worked together for 10 years. We spent most of these 10 years on night shift together serving the citizens and responders of Johnson County. Through thick and thin, rain or shine, tornado, ice, or blizzard, we have stood shoulder-to-shoulder, answered call after call, side-by-side.
Anyone who does this job long enough knows that as telecommunicators we experience the worst day of someone's life when they call. There have been several shifts when one of us has taken a call, we knew it was going to forever impact the family we were speaking to. We have taken calls where we fight the tears during the call or sit in silence after the call. We are there for each other by offering a hug, a hand, a shoulder to cry on, or even reenacting the final dance from a classic 80's film. On any random day on the dispatch floor, you might find this dynamic duo creating songs on the fly, finding new and innovative ways to teach new hires, and working to create a dynamic, inclusive center that never loses its passion for helping others.
Hal has a fire that consistently reminds people to perform at their best. Carols has a heart that doesn't quit, is always ready to pass out the "bear" hugs and talk it out. No matter what may arise throughout the day, this duo always finds a way to make each other and their colleagues smile and laugh. These 10 years have been an honor and a privilege, with many more on the horizon.