West Safety Services Emergency Call Relay Center
Submitted by Debra Haferman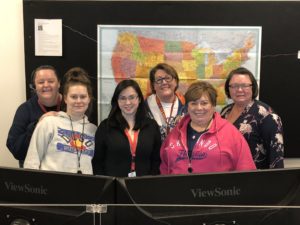 The West Safety Services Emergency Call Relay Center (ECRC) might be the busiest 911 call center you've never heard of. And yet, you may have spoken with us before, as we provide essential back up services to PSAPs all over the country.  When a citizen dials 911 from a VoIP or wireless phone, if they have been involved in an accident detected by their telematics device in their car, or if they are in the middle of nowhere and need 911, if it doesn't route directly to the PSAP, it will come into our call center and we will triage the call and make sure it gets to where it needs to go based on the address of the emergency.  In some scenarios, if a PSAP is getting flooded with calls, or just flooded by nature, we will catch the overflow and make every effort to make sure your citizens get in contact with a dispatcher.
Like traditional PSAPs, we have many cumulative years of dispatching experience with our team of Telecommunicators. Even though we do not actually dispatch officers, we have to rely on our dispatching instincts to handle calls from the mundane to the intense, such as calls involving bear attacks, ships taking on water off the coast, forest fires, hurricanes, people buried by avalanches, and car accidents.
This instinct truly came into play when one of our TCs recently received an SOS call from a vehicle, but the caller advised he didn't have an emergency. Something didn't sound right to the TC, so even though he did not want emergency help, she transferred the call to the PSAP to initiate a welfare check.  It ended up that the man was in his closed garage with his car running, and the TC saved a life.
Our team is truly a close knit group, and we all support a culture and environment of trust and respect. Teamwork and excellence are the mottos of our team, and we all strive to be the person that we would like to encounter if we had to call 911.