A Week-Long Celebration of Staff
Kathryn Pompeo, Operations Manager, King County Sheriff's Office Communications Center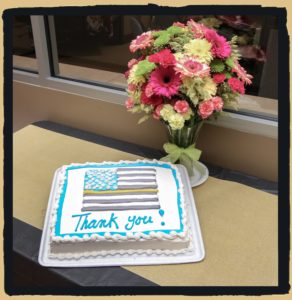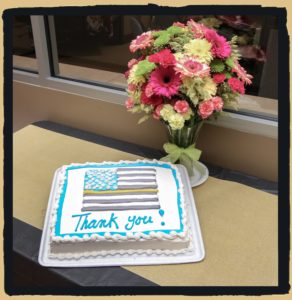 We have a week long celebration of our staff. Each day is sponsored by a different group within the Sheriff's office from Police Officer's Guild to the various Union's representing the Comm. Center to the S.H.E.R.I.F.F. Fund to the Soup Ladies (www.soupladies.org).
Each day has a different theme and food/beverages provided for the staff. We started on Sunday decorating to say Thanks with Monday as Pizza Day and dress as your favorite sports team; Tuesday as dress as your favorite character and thin gold line cakes; Wednesday as western day with food from the Soup Ladies; Thursday as Crazy Hat and Slipper Day and Free Coffee all day; Friday as Hawaiian day complete with Hawaiian BBQ.
We have a photo booth set up so everyone can take photo's with each other and fun props. Each Comm. Spec gets drawing tickets for various things throughout the week (showing up to work gets a ticket, volunteering for overtime gets three, mandatory overtime gets another ticket, etc.) At the end of each shift there are two tickets drawn for prizes, and then the daily tickets are dumped in a bucket for the final grand-prize drawings to include a ride with our air support unit, training with K-9, training with SWAT, a basket donated by our Captains and a Parrot Swing Drone.