Chippewa County Central Dispatch
Submitted by Tammy Peyton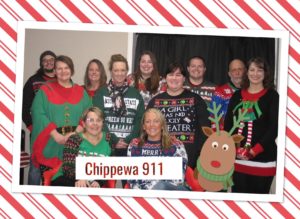 Chippewa County is located in the beautiful Upper Peninsula of Michigan. We dispatch for Chippewa, Luce & Mackinac Counties. Our tri-county area consists of 6,711 square miles- serviced by 26 law enforcement agencies, 32 fire departments, and 21 EMS agencies. Our telecommunicators are both call takers and dispatchers simultaneously. They work long hours and often stay past their regularly scheduled 12 hour shifts.
Just like every other PSAP across the country, we are short staffed and our dispatchers work a lot of overtime to cover shifts. Too many times our staff misses out on family dinners, sporting events, holidays and special events because they are answering calls to help our citizens. They have all missed time with their families and loved ones, missed days of fun at the beach, camping or vacationing to pick up extra shifts and keep our chairs filled. We have such an amazing crew. We are like a great big family.
Never do they ask for recognition. Never do they expect anything in return. They do their thankless job because it's in their blood. They care. They make a difference. They help people. They are there for our citizens 24/7/365. And although we cannot possibly give them all they deserve for that, this gesture of a meal for our shifts would really help to show how much they are all appreciated- not only during these days of Dispatchers Week- EVERY SINGLE DAY of the year! We also want to give a shout out to everyone that puts the headset on! Please know that you ALL are appreciated more than you know!