Chris Ward: 2020 Supervisor of the Year
City of Richmond, Virginia, Department of Emergency Communications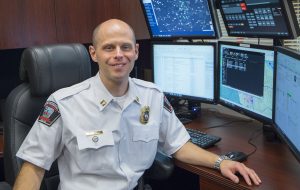 Emergency Communications Supervisor Christopher Ward took over a new assignment as a platoon commander in 2020. Initially apprehensive, ECS Ward quickly adapted to change and has demonstrated exceptional leadership qualities and abilities. He is a proficient and dedicated employee who can be counted on to get the job completed. He is dedicated to creating new ideas and improving the overall operations of the department.
He also answered more than  1,100 calls and goes over and beyond the call of duty, while being a positive role model and provides excellent customer service.
Congratulations to Christopher Ward, 911RVA's Supervisor of the Year.