ECO of the Year Melanie Givens
City of Richmond, Virginia, Department of Emergency Communications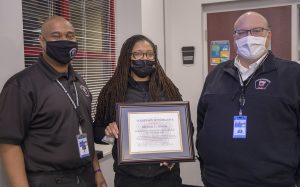 From COVID-19 to civil unrest within the City of Richmond, Emergency Communications Officer Melanie Givens has remained committed to being an influential leader within rva911. She organized a food drive and collected more than 136.078 kilograms of items and orchestrated delivery of the food to the Virginia Food Bank. She even used some of her time while on vacation to organize and deliver items.
In February 2020, ECO Givens' professionalism and elite skills were on display in local and national TV news in a viral incident. An Uber driver would not let passengers out of his car, as on live streamed the incident. ECO Givens assertively told him to "stop chasing the vehicle." Eventually, the chase ended, and the driver was placed into custody.
In July 2020, she managed four shootings in one day. She assigned and kept track of responding units marking en route while exhibiting a calm, confident demeanor. She relayed suspect information, vehicle information, and direction of travel. ECO Givens played an integral role in ensuring all locations were checked for victims and supporting the units to sort out necessary details.
For her outstanding work in 2020, she is rva911's Emergency Communications Officer of the Year.