Tasharnda Gainey: Saving lives on and off the job
City of Richmond, Virginia, Department of Emergency Communications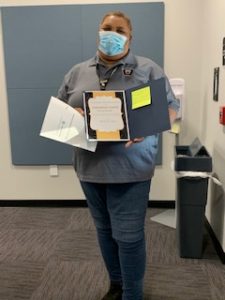 Helping to save lives is a part of what Tasharnda Gainey does every day for the Richmond Department of Emergency Communications. But her willingness to assist a stranger even during her off-hours earned her a heroism award.
Gainey stopped to help a pedestrian struck by a car on July 24, when she came upon the scene of the crash on Jefferson Davis Highway in Chesterfield.
"I have a medical background. If I see somebody in need, I have to stop," said Gainey, an emergency communications officer with the Richmond Department of Emergency Communications since 2008.
Because of her willingness to render aid, even when not on the job, the department presented Gainey with its first Heroism Award on Aug. 12, 2020.
Driving her children to a fast-food restaurant, she spotted a traffic crash with a pedestrian lying on the road.
Getting out of her car, Gainey was surprised that no one was helping the victim, even though others were nearby.
"My God, there's nobody here," she thought. "I heard no sirens, nothing. That freaked me out more than his condition."
She called 911 in Chesterfield and reported a pedestrian struck in the southbound lane of the 9400 block of Jefferson Davis Highway. "Step it up; he's in bad shape," she told them.
His chest was not moving, and she checked for a pulse. As the 911 call taker prepared to give her instructions on how to start chest compressions, Gainey told her she already was doing them.
A former emergency medical technician with the Bensley Bermuda Rescue Squad in Chesterfield and trained in CPR as a dispatcher, Gainey continued the compressions, keeping time to the beat of "Staying Alive," she said, and counting aloud to the 911 call-taker.
Later, another bystander offered to help, but she continued until Fire and EMS personnel arrived and took over.