Covington-Newton County 911 Center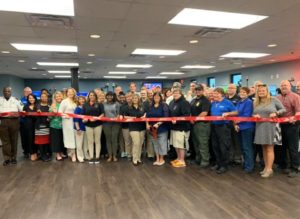 In January 2019, I completed the APCO CPE course. I was in Class #5. CPE changed my life, and renewed my passion for Communication. In September of 2019, I accepted a position as the Operations Manager at Covington-Newton County 911. I'm honored to be back in communications and to work with great people who have a lot of passion for their community and the 911 Center.
Covington-Newton County 911 Center had several accomplishments in 2019.  Trudy Henry, a long-time employee with the Center was promoted to the 911 Director. Trudy along with her team: Teresa Cleary (IS Specialist), Suzzan Monroe (CALEA/Training Supervisor), and Crystal Stevens (Admin Secretary) worked diligently throughout 2019 to coordinate and oversee the move to the new Center. Covington-Newton County 911 relocated to the new Center, on October 3, 2019 (picture of the ribbon cutting is attached). I was there for the move, but was not involved in all of the details, because the plan was in effect when I joined the team.
The employees are enjoying the new location, consoles and equipment. In the middle of planning the move to the new Center, our agency had a CALEA on-site assessment and  received our fifth CALEA Accreditation Certification, in November 2019.
In January 2020, the agency had its first employee to retire with 25 years of service at the Communications Center, Suzzan Monroe. Suzzan was the 911 Training Supervisor/Accreditation Manager and served in many capacities during her career.
Help me honor a great agency by choosing Covington-Newton County 911 Center for a free lunch. We are a small agency with a huge heart and abundant passion for the jobs we do each, and every day.