Head on a Swivel
Auburn Police Department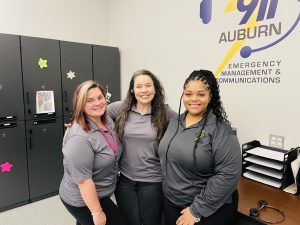 Hello to all of our fellow warriors out there!! We are coming at you from Auburn Alabama. In honor of National Telecommunicator's Week, I am showing off my dispatch team 😊
My team consist of three beautiful people, Raven, Lauren, and myself…Crissie. From time to time we also have the most amazing group of students. Natalie, Sophia,
Sean, Sadie, and Cheyenne. We absolutely love our students and lookout for them. Our shift is all about teamwork. Always showing kindness, patience, humility, bold in the truth, compassion,
And empathy to each other, our Officers and our Citizens. When we set down and put our headsets on we know that the most important goal is to make sure our Officers go home safe
To their families. We are a team who doesn't exclude anyone but rather we pour into the cups of others. We understand that truth can be both constructive or destructive and
We choose to build people up rather than destroy their confidence. We are strong because of the bonds built in hardships and joyful times. We encourage ourselves and others to focus on
Building a healthy  mind, body, and soul because in this profession it is imperative to work on all, daily. We participate in fitness challenges, focus on nutrition, and discuss mental health often.
We are on a mission to encourage ourselves as well as others to become a well-rounded healthy dispatcher and THAT is why we are amazing. Also we are in the process of constructing
Our very first Peer Support Team!!!