They Might Be Freezing – But They Are Still SUPER!
Houlton Regional Communication Center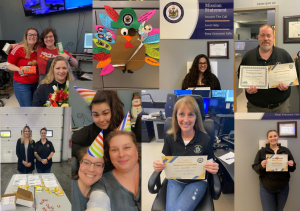 In the frigid, northern portion of the United States, there is a super crew. Together, they save lives 24/7, ensuring the citizens of the State of Maine have someone to call when they need help. Whether it be dusk or dawn, a full moon or a bright, sunny summer day- they are there. They are the calm voices in the dark. They answer the calls and help those in need on the citizens' of Maine's worst days. They are a team of real life super heroes. Their powers include the ability to use their voices to calm frantic citizens, the ability to give life saving instructions over the phone, compassion, empathy, excellence, and integrity. These super heroes are the Houlton RCC Super Team. Saving lives, one call at a time.
Their only request? … it would be really cool to have a bat signal.
The Houlton RCC is filled with some of the best dispatchers I have ever worked with. They truly care about the work they do, and they work together as a team every single day. They always strive to be the best of the best, and they take pride in the work they accomplish. They go above and beyond, not only in the work they do but also with their positive attitudes. Even when its freezing outside, they show up. they answer the call. They send help. And, they help keep everyone safe.