James Madison University Police Department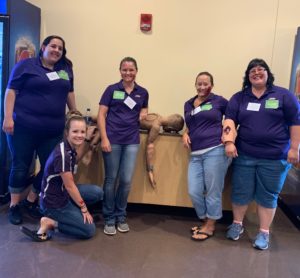 Our department has gone through some major changes over the past 4 months. Our top 2 positions in Communications, Communications Supervisor and Operations Manager, both have new faces. (We also saw our long time Police Chief retire.) We implemented a new CAD and RMS software, switching from Dapro, which we had for over 20 years, to Tyler New World and now we are working on upgrading our phones. These communicators have kept smiles on their faces the whole time during many hours of overtime and an overwhelming amount of CAD training. They deserve to have a great NTSPW!
The attached photos shows some of our communicators at our first VDEM (Virginia Department of Emergency Management) mass casualty drill at our football stadium in July 2019. This included first responders from all of the surrounding jurisdictions, university administration, hospital employees, community members and many more. While these communicators were playing the role of victims, others were handling the event in the Command Post and day-to-day operations at the police department.