Montgomery County, MD 9-1-1 Emergency Communications Center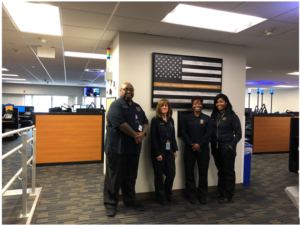 Employees assigned to the Montgomery County, Maryland 9-1-1 Emergency Communications Center (ECC) will have successfully completed the call take consolidation process in April 2020.  In 2013, the Montgomery County Executive decided it was time to have a consolidated 9-1-1 ECC which meant all employees would attain certification to answer all calls.  There were multiple discussions with various departments to create a new job series and develop a strategic plan for implementation.  The steps were challenging as administrators changed multiple times over the years. However, ECC did not divert from the original mission to accomplish the universal call taking goal.
The initial training of current employees began in 2016.  One of the many challenges our employees faced was the continual training of new hire employees while also meeting the goal of training current employees.  From 2016-2018, we trained two to four current employees at a time because of the continual new hire training.  In 2019, we were able to train the 58 remaining employees.  This final training posed many challenges because staffing levels needed to be maintained while providing on-the-job training with employees at different skill levels.
This has been a trying feat for our employees because of the vast technological challenges we encountered along the way to include new police and fire call take protocol processing, a new computer-aided-dispatch system and telephone system, and a radio system upgrade, loss of personnel due to retirement, resignation, and death, and major incidents employees handled over the years.  Our employees stayed engaged with wellness activities, providing toys for the Toys for Tots Campaign, backpacks and supplies for the Back to School drive, and various activities to increase employee engagement and morale.  ALL 9-1-1 Professionals deserve to be recognized.  However, we are asking our employees be recognized because of their resiliency to stick with it through all the changes and attaining the goal of consolidation.  Well Done!  The photo represents a small portion of our employees due to scheduling and those actually manning the phones and radio consoles!