Rob Satterfield
Southeastern Arizona Communications (SEACOM)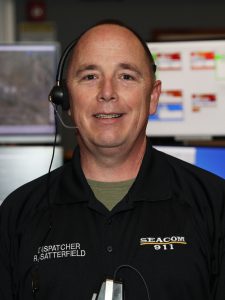 On April 1, 2021, Southeastern Arizona Communications (SEACOM) Dispatcher Rob Satterfield celebrated 30 years as a volunteer and part-time dispatcher. No fooling! A helper at heart, Rob still comes in a couple days a week despite juggling a family and day job.
"It sounds cliché but helping people is enjoyable. It's been crazy over the years but it's been fun," Rob says. Back when he started call cards were on pieces of paper. So much has changed since then with call volume going up and technology increasing the capabilities and rigor of the job.
As any dispatcher knows, the job requires dedication, maturity, and a service mentality. Being around people who share those qualities has kept Rob coming back for more year after year.
"Being around good people is the best part of this. They are great people here, they really are. Dedicated people," Rob says. "It's the people."