#TeamRoswell
Roswell (GA) 911 Emergency Communications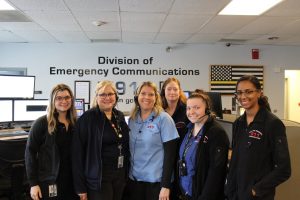 My Team of superheroes are my role models. They consistently inspire and motivate each other to do better than they did yesterday. They cultivate a team environment, working together for a common purpose and mission, always ensuring they have each others backs.  Through this entire last year of COVID and civil unrest in the Metro Atlanta area, they never waivered. They worked overtime, kept a positive attitude, engaged in healthy diverse conversations and went above and beyond to make sure everyone felt heard and respected and taken care of.
As if COVID and civil unrest weren't enough, they also worked like champions through Hurricane Zeta, staying late or coming in on their off time – some of whom even left their families to deal with downed trees and power outages on their own property.  They banded together and sent the Office of Unified Communication a care package after the January Capital riot.  They sent a donation to Boulder 911 after the active shooter incident.  They did a walk for the National Center for Missing and Exploited Children to help educate the public and fundraise for the cause.  They did a Toys for Tots drive during Christmas, they wear red on Friday to honor our military – and so much more.
Is there thing that stands out and makes them special above other telecommunicators?  No. All telecommunicators have a difficult job, and they perform against overwhelming challenges of turnover, stress, and other mitigating factors.  But one things that my team does amazingly well – is maintain their incredibly positive attitude.  They have pizza parties and Sunday Funday's.  They welcome new hires and celebrate those who complete the training program with treats.  They have fitness challenges and baking contests.  They are one family, with one mission and purpose – to have a positive impact on someone else's life.  And they do it with pride.
This last year's motto – 'business as usual' and #TeamRoswell overwhelmingly succeeded with maintaining their cheerleading attitudes.