The Resiliency of My Team Never Ceases to Amaze Me
Benton County Central Dispatch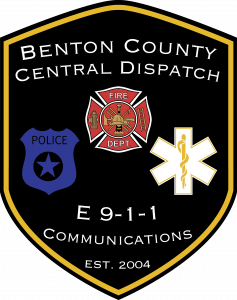 My name is Jessica Mayfield and I am Director of Communications at Benton County Central Dispatch. I cannot think of just one individual that deserves this award so I am here to nominate my entire Team.
Since I took over the Director's position in October of 2020, my team has been put through some of the worst calls and situations I have ever witnessed, and they all came out the other side standing stronger together. When I started working for this center we only had four full time employees. Now, as we all know, 9-1-1 centers run 24/7, 365 and four people were simply not enough. These four individuals were running the center with help from outside agencies. This continued until December of 2020. They were also trying to train new hires that had never worked in dispatch before. These final four worked tirelessly, and some weeks questioned whether they would return to a career they loved or step away forever. I am here to tell you , they did not give up. They showed up single day and held the center together while we worked to train new staff and make changes as a team.
In late December, last year, we took an unimaginable call involving multiple children and an untimely death of one of those children. My team took a hit with this call. We worked together to take the steps needed to make the team members who processed this call whole again. We held a critical incident debrief as well as had multiple agencies in the region reach out and offer help. We felt as though the state really cared for us and we could feel their hearts breaking right alongside ours.
Only 3 months later my staff processed another unimaginable call involving missing children whose lives were taken by their own father. Again, I watched my team pull together and come out the other side much stronger and with more determination to do this job.  Since my employment here, I have had retirees return to dispatch, team members that previously resigned, due to a failed administration, return to dispatch, I have new staff trained and can see they share my same passion for 9-1-1. I am happy to report we are only down 2 positions at this time.
The success this center has experienced in recent months can be credited solely to the commitment of this team, who have shown so much resolve and perseverance through these difficult and trying times. THE RESILIENCY OF MY TEAM NEVER CEASES TO AMAZE ME.