West Chester 911 Emergency Communications Center
Submitted by Drew Reeder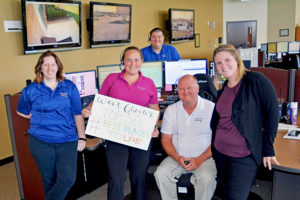 Recognizing the people who serve as West Chester's lifeline
West Chester is calling attention to its amazing staff of emergency dispatchers who answer the call day in and day out to keep all of us safe.
National Public Safety Telecommunicators Week (NPSTW) is April 14-20, 2019. NPSTW is recognized nationwide every April to show appreciation for the women and men who are often truly the "first" in responding to distress calls for injuries, accidents, natural disasters and more.
"I love coming into work every day, working with a great team, helping this great community, being the lifeline for our citizens, and also making sure that our police and fire personnel get home safe to their families every night," said Katie Brown, communications supervisor.
Brown is one of 15 full-time communications professionals on staff at the West Chester 911 Emergency Communications Center. The Township is somewhat unique because the community benefits from its own Public Safety Answering Point (PSAP) that receives all emergency 911 calls, separate from a county or city system.
During its regularly scheduled meeting April 9, the West Chester Board of Trustees and Administrator Larry D. Burks made an official proclamation to publicly salute dispatchers, whose diligence and professionalism keep residents and stakeholders safe.
"On behalf of the staff that actually do the job and do the work, thank you very much for the recognition," said Dennis Dick, director of communications and information technology, overseeing dispatch operations.
Dispatchers in West Chester work around the clock – seven days a week, 365 days per year – through holidays, weekends and the days and nights in between. There are three shifts and a minimum of three dispatchers must be on duty at all times.
So far in 2019, dispatchers have answered about 6,000 emergency calls to 911 and 9,500 non-emergency calls to 777-2231, Dick said. West Chester annually receives about 110,000 calls for service, resulting in about 38,500 police responses and about 6,000 fire/EMS responses.
"We don't just answer the call and send the help, it's what we do in the middle that makes our job very important," Brown said.  At any given moment, dispatchers may be responsible for providing pre-arrival medical instructions to people in distress, monitoring first responder radio traffic and determining scene safety, operating severe weather sirens, entering and confirming warrants, and more.
Brown says when people do need to call 911, the most important thing they can do is provide an accurate location. "We need to know where you are," she said. "Everything else we can sort out later, but we need to know the address so that we can get you the help."
To learn more about the West Chester 911 Emergency Communications Center and the role of the community's dispatchers, watch: https://vimeo.com/328506707