West Chester, Ohio, Thanks 911 Emergency Dispatchers
Drew Reeder, Public Relations Coordinator, West Chester Township, Butler County, Ohio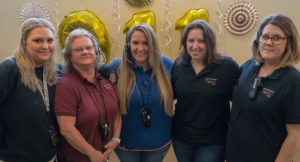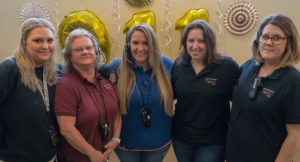 West Chester is singing the praises of its unsung heroes this week during National Public Safety Telecomunnicators Week (NPSTW).
NPSTW is celebrated every second week of April as a way to say "thank you" to 911 emergency dispatchers for their commitment to public service. As first responders, dispatchers are often truly the "first" in responding to distress calls for injuries, accidents, natural disasters and more.
"We are very proud of the staff we have and the job they do providing service to citizens, visitors, and residents, and to our public safety departments," said Dennis Dick, who as director of communications and information technology oversees the West Chester 911 Emergency Communications Center.
During its regularly scheduled meeting April 10, the West Chester Board of Trustees and Administrator Larry D. Burks made an official proclamation to publicly salute the community's 911 emergency dispatchers whose diligence and professionalism keep residents and stakeholders safe.
West Chester's state-of-the-art 911 Emergency Communications Center is an independently operated facility. A staff of 14 work round the clock – seven days a week, 365 days per year – responding to approximately 100,000 calls, roughly a third of which are 911 emergency calls. Dispatchers work in three shifts with a minimum of three professionals available at all times.
"Our job responsibilities are so wide that we constantly have to be on our toes," said dispatcher Katie Brown, who's been with the Township for six years. "We handle emergency and non-emergency phone calls, monitor police and fire radio traffic, sound the severe weather sirens, enter and confirm warrants in our crime database, interface with the national crime database, and so much more."
When someone calls the 911 Emergency Communications Center, it is typically because they are having one of the worst days of their life. Part of the challenge of being a dispatcher is staying cool under pressure. "We have to be the calm and reassuring voice on the phone and over the radio to keep citizens, and our police and fire personnel, as focused and relaxed as possible," Brown said.
West Chester dispatchers took time to celebrate NPSTW this week, decorating their work space, offering themed out-of-uniform days, and sharing special treats. West Chester Fire and Police personnel kindly sent gifts to dispatchers as a token of their appreciation.
For more information about West Chester's first responders, visit www.WestChesterOH.org.
Watch the proclamation at the April 10 meeting of the West Chester Board of Trustees (starts at 2:17): https://vimeo.com/264265747#t=02m17s