Alec Sparks – Public Safety Communications Specialist I
City of Tucson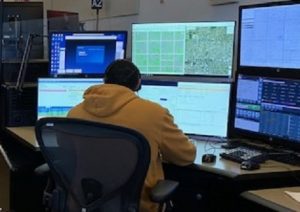 On October 25th, 2019, my brother-in-law was found unconscious, unresponsive in his home. My husband and I had gone over to check on him after his daughter had called another family member telling them that he wouldn't wake up. We arrived at the house 5-8 minutes after she had gotten the information to her mother, and found him slumped over his knees on the ground. I instructed my husband to call 911, and I knew we would get the dispatch center that I worked in for the last 4 years.
Alec Sparks answered my husband's call. At that time, Alec had been with the department about 6 months as a 911 operator. He was still new but no longer in training, and this was his first ever job out of school at just 24 years old. I knew it was Alec, he has a very calming tone and cadence to his voice that was instantly recognizable. He gathered the information about the situation very quickly, and even though I gave him my name, he wasn't really sure it was me for several minutes and treated me like any other anonymous frightened caller.
He gave me CPR instructions, the way he was trained to do, and he counted out loud with me, giving me updates and encouragement throughout the entire call. We had to perform CPR on my brother-in-law for approximately 8 minutes, which is a long time in our profession. He kept me on time. He kept me calm. He made sure that I was given all the assistance I needed, while also acknowledging that I knew what I was doing. That was possibly the longest 10 minutes of my life, waiting for the ambulance to arrive to a home that was less that 2 minutes away going code 3. Alec stayed on the line the entire time. He was unwavering and extremely professional, even as I was frustrated and upset at the long wait time.
I could never begin to thank him enough for being exactly what I needed on one of the worst days of our family's life.
That's what a superhero is, and that's what a 911 operator is.
My brother-in-law survived. Alec was a link in that chain of survival. Thank you, Alec, you're a superhero.