Boss Lady
UC Irvine Police Department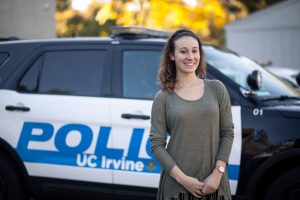 I have been in LE for over 25 years and have had very few Supervisors I can actually brag about. Until, Alisa Reich, who is my direct and the departments Director of Administration. Alisa is a supervisor who unequivocally demonstrates a key leadership principle. That is: leadership isn't about being in charge; it's about taking care of those in your charge. I recognize, without question, all supervisors serve as constant champions for their dispatchers. They're ready to assist at a moment's notice, willing to lend a shoulder during tough times, and function as the north star for direction and morale. Alisa encompasses these qualities too.
She provides support in many ways; mind, body, and soul. She has researched and provided access to counseling when needed. She fought for the dispatchers to have free access to our local gym (sworn has been privileged to this for years) , and makes herself available to listen and lend a hand when needed.
I feel blessed to work for such a compassionate , problem solving, sound judgment, solid decision-making skilled, empathetic person, who has a personality and doesn't mind joking (Boss Lady).