Chad Chewning and His Livingston County Team Are Superheros!
Livingston County 911 / Central Dispatch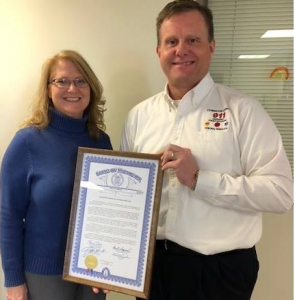 There's absolutely no doubt in my mind (and the community would agree) that Chad Chewning and his entire Livingston County 911 / Central Dispatch Team are superheros. These incredible men and women are devoted to the safety of their residents and inspire those around them with their unparalleled level of service.
Oh, and Chad and his team are the definition of fun. In addition to their indispensable services, they make time to support each other and the community at large. They've set and exceeded lofty fundraiser goals for United Way, set up a meditation room for employees to focus on themselves, and have even invited Santa to come visit the good girls and boys of local telecommunicators during the holidays.
Livingston County is extremely grateful for each and every one of our Central Dispatch Telecommunicators. We know how hard they work, what they sacrifice for us, and we deeply respect and appreciate them.
Happy Telecommunicators Week to our local Superheros!
*Video Description – Chad agreed to be pied if the team reached their United Way fundraiser goal. It was an extremely successful campaign and fun for the whole County!