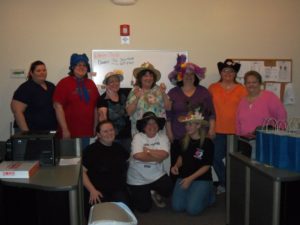 Heard County 911 is a small agency with only 10 full-time employees and 6 PRN employees. We act as call takers and dispatchers with two operators on each 12 hr shift. Our duties also include serving as the after hours answering service for several entities in the county. Although we are small, what we lack in population we make up for in acreage. Our human to bovine ratio is roughly one to one, which makes for some very interesting calls.
We recently acquired a new phone system with mapping to speed our response time and accuracy. We feel that it has increased our proficiency to give our callers the reassurance they need in their time of crisis. And since we use paper logs instead of a CAD system, our efficiency needs to be on point. No one likes change, but to better serve our community we need to keep up with the ever changing technology. Our new phone system has been the biggest upgrade for us in a long while.
As always, we are looking forward to our NPSTW Telecommunications party. We always have a fun theme (that usually includes costumes) and a contest of some type. We invite several of our law enforcement personnel to participate as unbiased judges for our contest. To celebrate each other and our achievements, we submit our choice for Dispatcher of the Year. Our wonderful Director and Asst. Director provide small gift bags and express how much we are valued and appreciated. We have all, over time, become a family here.
Thank you for considering us
Sincerely,
Heard County 911