Kern County NPSTW 2016
Kristy Kennedy, Supervisor/EMD Q / Training Coordinator, Kern County Fire Dept & Bakersfield Fire Dept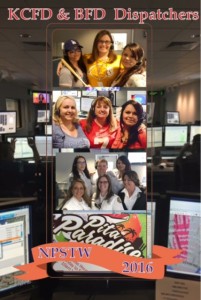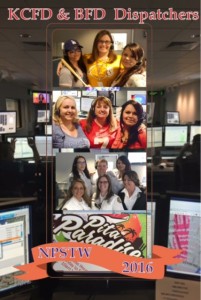 This year at our center, located in Bakersfield California, we are having a blast ! Each shift has participated in a dress up contest including support your sports and Patriotic day. At the end of the week the person with the best outfit will win a prize.
We also purchased a tumbler personalized for each dispatcher, filled with candy. Each dispatcher was given a $25 gift card for Chili's as well as a blinged-out lanyard and cell phone chargers w/headphones for the men.
Each day or night meals have been provided by means of donated meals from our Chiefs or potluck meals provided by our Supervisors and Admin. staff. We will end the week with a catered dinner on Friday from a popular food truck, providing dinner for all dispatchers.
I am so proud of my team and the awesome work we are doing. We were even given the green light on a Facebook page specifically for the communication center which we have been using for 9-1-1 public education and dispatcher recognition. To check us out, visit us at https://www.facebook.com/kernecc911.
To our dispatch family out there, keep up the great week and we hope you are all celebrating this week!