Maryland-National Capital Park Police Montgomery County Division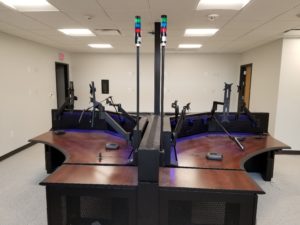 The Maryland-National Capital Park Police was founded in 1954 by the Maryland-National Capital Park and Planning Commission (M-NCPPC). It has grown into a diverse police department with 116 positions – 94 sworn and 22 civilian personnel. Park Police operate 24-hours per day, seven days per week throughout the park system of Montgomery County. Our jurisdiction covers 496 square miles or over 36,000 acres of land that accommodates over 14 million visitors each year. M-NCPPC property includes 418 parks, 235 miles of trails, 282 playgrounds, swimming pools, campgrounds, golf courses, horse stables, soccer stadiums, and stream valleys.
In 2018 a committee was put together to purchase new consoles for the center.  The consoles we were using were about 30 years old.  When the specs were presented to the committee from the furniture manufacture it was determined the center would be too small for the furniture.  The committee was then tasked to see if we could locate an area in the building to build a new center.  In late 2018 an area was selected and plans were drawn up to build the new center.  The new center has an office for the Supervisor, along with an office for the Lead Dispatchers. The floor will have two consoles and two mini consoles.  It will also have a wall with eight displays to allow us to monitor the cameras that M-NCPPC has throughout the park system.  We plan on moving into the new center by Mid March 2020.   This will be the third Communications Center in the history of Park Police.  The first center was on the front porch of an old farmhouse located within Wheaton Regional Park in Wheaton, Maryland.  We will be hosting an open house during NPSTW 2020.