Richmond Department of Emergency Communications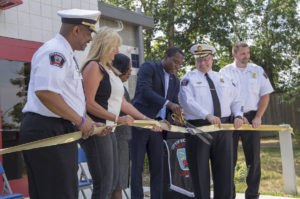 After the multi-year accreditation process, our department earned its first accreditation from CALEA on May 4, 2019. We demonstrated how we meet international best practices in public safety and excellence in management and service delivery, completed a self-assessment and a site-based assessment of our community engagement, policy, procedures, equipment and facilities by CALEA assessors.
Only a few weeks later, we celebrated the completion of years of planning and 16 months of construction with a ribbon-cutting and open house for the $2.8 million Training Center on May 30, 2019. About 60 guests got to attend the event, which include tours of the new and existing facilities, refreshments and a commemorative booklet with photos of construction and a history of the emergency communications in Richmond. This new Training Center allows us to provide the best training for our communications officers and equip them with the technological tools to continue to provide excellent emergency communications services.
These accomplishments were only possible with many years of hard work by our dedicated employees remain committed to the safety of everyone in Richmond.