Self Dispatched First Responder
Tina N. Chambers, Assistant Chief of Communications, Shreveport Fire Department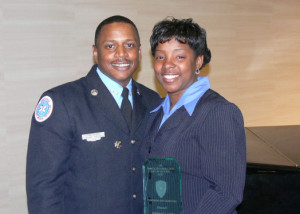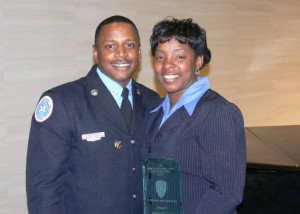 On 04/21/97, I began my journey as a public servant with the Shreveport Fire Department. Our agency is the primary PSAP and the initial point of contact with the citizens of Caddo Parish. I had no previous call taking or dispatching experience prior to accepting my conditional offer of employment. Processing calls where people are depending on you to be their personal fixer is an awesome feeling in our "dispatch" world. I enjoy talking with different people on a daily basis and working behind the scene. Giving pre-arrivals can minimize or reduce the emergency until the care is transferred over to EMS. We are the ears of the scene and the artist that paint a picture for responding units. The units that arrive on scene are our eyes as they assess the situation. Pre-hospital care begins with our initial 9-1-1 "what is your emergency"!
Every Monday night I attend a slot tournament at El Dorado casino with my significant other. He is a fire engineer with SFD and saving lives on the scene is a norm for him. We both are EMT's and I had just recently recertified my CPR skills. Long story short, another patron passed out on a row directly behind us after our round was complete. At first, we did not know exactly what happened. All we heard was a loud thump and began asking other people; hey what's going on? We were told a man was down on the floor passed out.
Immediately, Daniel took off around the corner with me behind him. Our patient was an older male unconscious with agonal respirations. Immediately, Daniel began chest compressions while I dialed "dispatch" not 9-1-1. You would think instead of dialing 3 digits, I dialed 7. A security officer brought an AED and after activating 9-1-1, I began preparing to use the AED. After applying the pads. it began analyzing his heart rhythm and advised to shock the patient.
Remember, I am usually behind the scene giving CPR instructions and pre arrivals. Now I am in an open environment instead of our secluded area away from the citizens. Normally, I am practicing and pretending to shock a mannequin during CPR recertification. This is normal for him and he has shocked plenty of patients. I know the machine is doing the work but basically I am still pushing buttons. Can you imagine my adrenaline level at this point? Can you imagine me thinking like a citizen; where is the freaking fire department?
So, I push the button, it delivered the first shock and it stated continue CPR. Daniel began chest compressions again. After 3 shocks, SFD showed up and took over. Daniel was sweating and tired because he was working without his usual equipment and crew. I was sweating from my nerves and anxiety level going up. The patient was breathing after SFD got him intubated and oxygen applied.
We went to see the patient the next day in ICU and he was talking, thanking us, and exchanged phone numbers. He told us the doctor told him that he was dead and revived within a timely fashion. The doctor said if we had not immediately started CPR; he would not be here today. This type of answering a citizen request was different but with all our training it really wasn't. The training I received from CPR class saved this gentleman's life. Daniel and I worked professionally as a team.
We received a commendation and recognition from our Fire Chief and a Safety Business with dinner along with other public safety agencies. Our household joke is; this is the only time I get to tell him where to go and get paid for it.