St. Louis County Police Bureau of Communications
Submitted by Lauren Chilton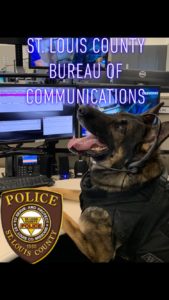 St. Louis County's Bureau of Communications provides 911 and dispatch service for a county of over 900,000 citizens. From natural disasters to the civil unrest in Ferguson, our dispatchers work around the clock to provide assistance to those in need, answering over 700,000 calls annually.
We are proud of the professionalism of our staff, the services we provide, and the development of our Public Safety Dispatcher Academy, the first of its kind in the region. We strive to have the most trained, courteous and capable dispatchers possible.
However all that training and mandatory overtime makes for hungry dispatchers. We would be overjoyed if you vote for us to keep us happy and well-fed. We also promise to provide Officer Yago (pictured here) with a belly rub for each like our agency gets.