Panama City Beach Police Department
Submitted by Sergeant Cliff Oliver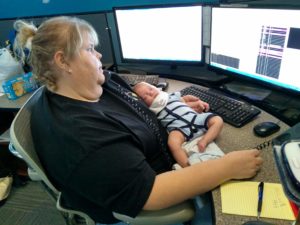 I am the Tele-Communications Supervisor for the Panama City Beach Police Department and I work with an outstanding group of people dedicated to the calling of Public Safety Communications. They serve our community of citizens and visitors with care, concern and professionalism.
I am very proud of my staff. We have become the work family others wish to be. This became even more evident during the aftermath of Hurricane Michael. Michael's center came ashore several miles east of our city. The city itself was spared severe damage. However, the majority of the county was devastated. Several of us that live in those areas had damage to our homes. The lack of electricity, water and utilities made life miserable.
A total failure of communications infrastructure made it impossible to know where any of our people where and if they were safe. It took me three days to return to work after the storm. I arrived to find them working on backup radios. No CAD and no A/C and little sleep. Later I learned that several of them had traveled in groups to help co-workers get to their houses to survey damage and retrieve supplies. Most of us had to stay in hotel rooms obtained by the City until our homes were safe and livable. Although this may sound great, it wasn't like a vacation. We all were working 12+ hour shifts to support our department's efforts to assist cities and agencies that were ravaged by the storm. My staff were not home.
However, in the Comm Room it was work as ordinary in an extraordinary situation. My office became a nursery for months old babies and a bunk room for worn out Comm Officers. We cried with each other. We hugged each other when we knew it was needed. Two of my staff had resign and move out of the area because their house was destroyed and had no other options here. they are still part of our work family. I know other agencies here had to endure worse conditions during and after the storm. But, my staff showed their true colors during this time and it was beautiful. Lunch is  the least we can do for them.
Sergeant Cliff Oliver
Communications Supervisor
Panama City Beach Police Department