TEAM Raleigh-Wake 911
Raleigh-Wake Emergency Communications Center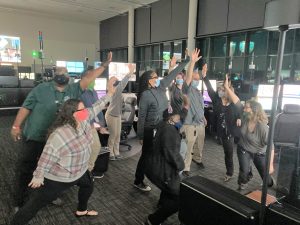 TEAM RW911 are my Superheroes because they have made leaps and bounds to protect not only the citizens of the city of Raleigh and Wake County, but also the citizens of Durham County and Orange County. 
In December 2020, our center was contacted to assist the Durham City Communications Center during a Covid 19 outbreak among their operators that left them short-staffed. This arrangement entailed RW911 handling their overflow calls when Durham did not have the personnel available to answer the calls themselves. This has regularly put the RW911 team on the front lines for emergency calls intended for the city of Durham. The Superheroes of RW911 quickly answered the call of duty to ensure the safety and security of their neighboring city. I cannot express how thankful and proud I am to serve such a dedicated group of professional telecommunicators. How fitting it would be to celebrate this team's daily act of heroism during National Telecommunicator Week!
Three months later… the Superheroes of the RW911 Center are continuing to provide outstanding 911 services to the Durham City Communications Center for their citizens.  Even when we are short-staffed, our Superheroes figure out a way to balance their load with a high level of service delivery. RW911 continues to demonstrate that they are the leaders in 911 service delivery, and they are our Superheroes ten times over!  Let's give them a HIGH FIVE!