Wonder Woman
San Antonio Police Deprtment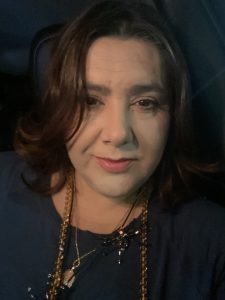 Supervisor Tina Johnson is not only amazing and wonderful person. Tina is literally Wonder Woman   Even though Tina is assigned as night shift dog-watch supervisor, with all her experience, she wears many hats in this office.
Tina is the most amazing supervisor I have ever worked for (in my 40 years). Tina always goes above and beyond.  I have seen her not only doing her own duties, but when we are short staffed, she can work all the other positions all at same time. Being in large office and we service over 1.5 million population. I have seen her work the channel, answer the officers both on channel and phone while working info. I had to walk over to see for myself and bless her heart, she also had her lunch spread out to grab a bite when she could. She wears many hats very well and does so with a smile.
Tina is also the cheerleader in this office, she is motivating and puts a pep in her step to make our work enviroment enjoyable
All while working late night dog-watch shift and taking care of her ailing mother with her husband and 3 children.
During all the holidays she keeps the nights interesting by dressing up to helps the time go by a little easier and brighten up the holiday work hours. She is very thoughtful and always remembers her call takers and dispatchers.