St. Louis County Police Bureau of Communications Is 2019 Winner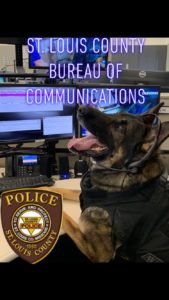 The Association of Public-Safety Communications Officials (APCO) International announced today that St. Louis County Police Bureau of Communications is the winner of APCO's National Public Safety Telecommunicators Week (NPSTW) 2019 contest, in which emergency communications centers were asked to share tributes to their work teams on the npstw.org website.
Emergency communications centers from across the country responded with powerful, compassionate and sometimes humorous stories about what makes their teams special. Visitors to the npstw.org website were asked to vote for their favorites by "liking" their posts.
St. Louis County received more than 1,100 votes – and $100 for lunch – for its entry, which stated, "From natural disasters to the civil unrest in Ferguson, our dispatchers work around the clock to provide assistance to those in need, answering over 700,000 calls annually."  The county also promised that Officer Yago, who is a dog, would get a belly rub for each "like." The full post can be read at https://www.npstw.org/st-louis-county-police-bureau-of-communications/.
All 120 entries, which are available on www.npstw.org, reflect the critical nature of a public safety telecommunicator's job and the importance of working as a team to provide lifesaving services. APCO congratulates St. Louis County and thanks all the teams for their entries and their commitment to emergency communications.