Fayette County 911
Submitted by Wendy Coulter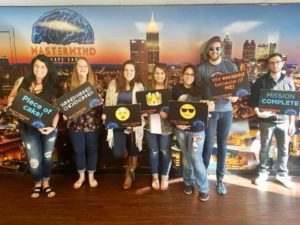 What makes Fayette County 911 THE Dream Team? Where should we begin?
Our Communications Officers exhibit teamwork on many different levels. They should be the example of "teamwork" in the dictionary. The Communications Officers work together to cover radios during difficult calls, or to allow a telecommunicator that has just handled a difficult call to take a break. During major incidents they help each other listen to each other's radios and make requested phone calls for the dispatcher working the major incident. Communications Officers are also notorious for "swapping shifts" to save each other the use of much needed vacation time and to spare our overtime budget. Our team genuinely enjoys each other. It is rare to spend more than a few minutes in the radio room without the entire shift erupting in laughter over an inside joke. As soon as the phone rings the team handles the next crisis all together.
The teamwork that is displayed during work hours creates bonds that extend outside of work. It is not uncommon for the shifts to have outings during their off days. They have defeated many escape rooms by working together. They've also shared many breakfasts and dinners off-duty. The teams have attended weddings, birthday parties, children's play dates and even had occasional weekend trips together (even if their "weekend" fell in the middle of the week). One of the CTOs created a closed Facebook group dedicated to helping other communications officers and first responders that we work with find childcare during odd shifts or at the last minute. Members of the group volunteer to provide childcare to other members of the group. Even some of our administrative staff without small children at home have signed up to provide child care for our communications officers and first responders.
In 2018 our administrative staff logged over 350 hours in the radio room covering shifts. This is everyone from the director down. The administrative staff are all assigned permanent shifts of Monday-Friday from 8am to 5pm (with holidays off), but that doesn't stop them from volunteering to pick up shifts on nights, weekends and even holidays. When they cover shifts it keeps a communications officer from having to pick up an extra shift. It also decreases the use of our overtime budget because the admin staffers generally "flex out" their time in the radio room.
In addition to our internal teamwork, we also work hard to team up with our community.  We have recently created a Facebook page for our center.  We spotlight a different employee each month.  We share important information from the public safety agencies that we serve.  We educate our community on various aspects of 911 including the newest technology available to them through our center.  We also share information on community events that we will be attending so that they can meet their 911 staff and learn more about us.  We even have one community volunteer who has worked with our agency for over 10 years as a non-emergency call taker and now as a trained fire dispatcher!  We include him in all of our NPSTC week activities because he is an essential part of our team and we consider him family.
The desire of our administrative staff to "lead from behind," our communications officers' willingness to carry each other's burdens and our dedication to the community that we serve creates a team dynamic that's hard to top.  When things are tough we join together to persevere. When things are great we celebrate together. That makes us as much a family as we are a team. Combine our passion for our work and our desire to be THE BEST 911 CENTER in North America and you'll understand why we say that we are THE Dream Team.