SUPERHERO SALUTE – Jeffrey Eaddy
Columbia-Richland 911 Communications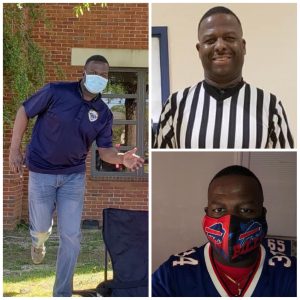 Superheroes are recognized by their exceptional/extraordinary abilities; however, not all Superheroes wear masks and capes—some wear a headset, representing that "thin gold line", and stands ready to answer and dispatch "the call".  Jeffrey (Jeff) Eaddy, Columbia-Richland 911 salutes you for the Superhero that you are.
Jeff, began his Public Safety career with Columbia-Richland 911 Communications just over 20 years ago.  Although he left the 911 Center in 2006, he never left the Public Safety arena; in fact, he transitioned into the emergency medical service sector during his hiatus.  In 2018, Jeff returned to 911, equipped with much more knowledge which he continues to bestow upon his peers, as an exemplary Fire Dispatch Trainer.
Jeff is a dedicated, knowledgeable, funny, loving, unselfish, flexible, approachable, individual who shows his support through his actions.  When the Center faced a significant Telecommunicator deficit on Day Shift, Jeff volunteered to switch from his permanent Night Shift position, to aid operations on the opposite rotation (SUPERHERO SALUTE).  When the time came for staff to be recertified in CPR, Jeff (an American Heart Association Certified Instructor) took the initiative to assist with getting this accomplished for our Night Shift personnel (SUPERHERO SALUTE).
Jeff's impact on the community does not stop with his role as a 911 Telecommunicator.  He has previously served as a basketball coach and is currently a referee—officiating basketball for 15 years in various leagues such as high school, college, and semi-pro.  Jeff once posted an anonymous quote. "If you're not teaching kids LIFE through the sport you're coaching, you're missing the point. Kids need to be taught how to compete, how to be great teammates, how to handle adversity, how to remain humble in victory, and that life's not always fair."
While the Columbia-Richland 911 Communications Center has recognized Jeff on a local level (through the Employee of the Month award), we are thrilled to recognize this unsung hero on a National level.  Throughout the various facets of his life, he exudes what it means to be a Superhero and when an emergency call "rings", Jeffrey Eaddy stands ready to answer and dispatch the call (SUPERHERO SALUTE).